Scanner Recommendation - Raven Pro
We frequently are asked for recommendations on printers, scanners and copiers.
It is easy to get enticed when walking through the aisles at your favorite big box store by that $100 multi purpose machine. You buy it and bring it back to the office but then are cursing yourself (or us) when you find out it doesn't function well enough for your business needs.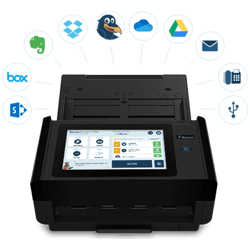 What we have found works for many of our clients is a high quality scanner and separate printers, dedicated for function. (Avoid a color printer when 99% of your prints are black and white!)
One scanner option that has been quite popular is the Raven Pro Document Scanner.
This scanner has wired and wireless network connections and will scan directly to many cloud services. It will do OCR and has a full featured touch screen where you can control everything from. It scans at 60 PPM and has says it can scan up to 6,000 pages a day!
Nothing needs to be installed on your PC for it to scan files, which means no software troubleshooting or compatibility issues.
You can send directly to email and you can type email addresses right from the front panel. It is easy to recall saved addresses and the large touchscreen makes it easy to type in a new address when needed.
It works with Microsoft Sharepoint, Google Drive, Dropbox and other cloud services.
As of this posting, it retails for about $650. View all specs and details at Raven's site, along with purchase links..
Raven also offers some other options, if your budget doesn't allow for the Pro model.
Raven Original - Still has wired and wireless network. Scans at 40 PPM and has a 50 sheet input capacity versus the 100 on the Pro. Retails about $450.
Raven Standard - This does not have network connectivity and connects to your computer via USB. For this reason, we do not recommend as we strongly encourage all devices to be network connected. However, for some budget situations, it may be necessary. Retails for about $300.